Florist Elm Grove WI
Are you looking for a florist in Elm Grove WI? Give our shop a call at (414) 276-7673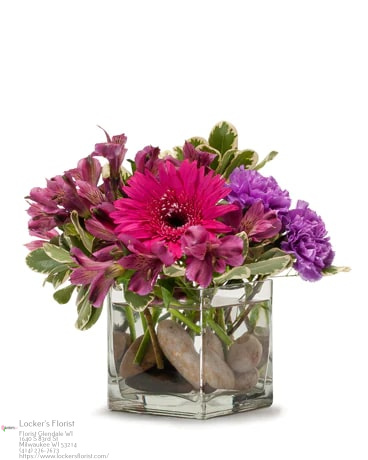 The Best Florist Near Me
Locker's Florist is a florist in Elm Grove WI. A Practical Guide For Decorating Your Home With Flowers. Bringing Life and Beauty to Your Home. Decorating trends change a lot with time. But interior designers and homeowners agree that one thing never goes out of style. What is it, you wonder? The answer is simple: floral arrangements! Even the dullest room can look bright, full, and radiant with classic floral accents! Fresh flowers provide a quick lift to any space. With the beauty of blossoms, they can showcase a room's style and little details. It's also the most ideal way to uplift your moods! After all, what's more revitalizing than coming home to bright and fragrant blooms? But seeking out the right flowers with the right vases can be difficult. Different areas have different decor needs, and flowers can make or break the look of a room. Well, we're here to make the task simpler! We've come up with a handful of tips that can help you spruce up your home with gorgeous blooms - the right way!
Call Locker's Florist the flower delivery experts in Elm Grove WI or surrounding areas today for your free estimate or if you have any questions, give us a call at (414) 276-7673

Find A Florist In Elm Grove WI
Florist Services
Combine contrast and consistency. Remember one of the most crucial rules of decorating. Don't match, complement! Keep in mind that your home is still the star of the show, and the flowers are actually there to play a supporting role. Make sure your florals don't overpower your home. It's essential to establish texture and depth with your interior design. A good way to do this is by adding a hiny of contrast while keeping your style consistent. Let's say your home has a more contemporary look. You can go for a clean-lined, single-flower bouquet to keep its sleekness. But your selection of flower has to have bold colors with heavy petals to provide depth. Best blooms for this include alliums, begonias, roses, or bulb flowers. You can also opt for a round or patterned vase to contrast the hard lines and flatness of modern interiors. For antique homes, you can opt for dense bouquets to match the richness of your interior. Go for arrangements with foliage and one-of-a-kind flowers. Ideal flowers include irises, cherry blossoms, peace lilies, and blackthorn flowers. These add a hint of modern design while keeping your home's classic look. Create aesthetically pleasing color palettes. Start with the current style and prominent colors of your interior. Search for color palettes that will suit the hues of your room. Get a feel of the visual harmony of your space! Soon after this, you can start putting in complementary but diverse colors. This will keep your blossoms from drowning in your room decor and wallpaper. Let's say your home has a color scheme of subtle blues. You can go with brighter tones of blue or purple to create contrast while still preventing color clashing. You can also think about adding a bouquet with softer hues to a room with brightly-colored decorations and wallpaper. It's also essential to set up your color palette with your interior style in mind! For example, if you have more open spaces or a rustic interior, go for earth tones and soft neutrals. This will enhance the homey, lived-in feel of each room.
Large inventory of fresh flowers for any occasion
Weddings / Wedding Flowers
Sympathy and Funeral flowers
Birthday Flowers
Get Well Flowers
Anniversary Flowers
Plants
European/dish gardens
Modern and traditional flower arrangements
High-style floral arrangements
Silk flower arrangements
Dried floral arrangements
Gourmet fruit baskets
Gift baskets
Why Choose Locker's Florist Services?
Take note of scents. It's not all about looks when it comes to blooms. You also need to take into account how your bouquet's aroma will affect the scents in the room you're decorating! Here are the most ideal floral scents for certain rooms in your house: Dining room - Avoid using flowers with strong fragrances at the dining table. Their robust aromas are likely to disrupt your meals. Go for freesias or roses, which have muted scents. They add an elegant and fragrant touch to your table in a subtle way. Bathroom - Flowers with exotic and powerful scents are perfect for the bathroom! Gardenias and orchids are well-known for their robust aromas that can fend off nasty smells. Even better, their extraordinary look can add texture to flat spaces like bathrooms. Bedroom - There are flowers with calming scents that can help relax you into peaceful slumber! Lavenders and jasmine are good examples of these. If you suffer from insomnia or other sleep problems, these blooms are best for you! Imagine sinking into your bed after a very long day and taking in those cool, gentle scents! Spruce up specific areas. While flowers can brighten up any place, there are spots in your house that might need more dressing up. It's a great idea to give more focus to decorating these specific areas: Coffee table - For most living rooms, the coffee table brings a sense of coziness and familiarity. It's also typically the center point of living room designs. This means the ideal flowers can really tie the room together. Go with classic arrangements with a pop of color for a pleasant, appealing vibe. Bedside table - Like we touched on earlier, keeping a lovely vase of bedside flowers can help ease your mind and melt the worries and anxieties of the day. It's also a great way to help you get energized in the morning. Keep a tall, simple arrangement on your night table. This will help prevent clutter and leave space for other bedroom essentials. Hallway - The very first thing that meets you and your guests when you arrive home is your hallway. So it's a really good idea to make sure you have stunning arrangements to provide a warm welcome! For homes with high ceilings, go with taller, more sculptural arrangements. Trailing flowers are a great way to kick things up. For homes with low ceilings, go for full bouquets in horizontal to make your home feel cozier. Dinner table - Good meals and discussions can only get livelier with beautiful flowers! It also includes a touch of luxurious elegance to your home decor.
For round tables, use a tall, basic centerpiece arrangement. For long tables, a good tip is to place them in rows. Be sure to have vases of varying heights to create a balanced but intriguing look. Shelves - Setting flowers in different shelves around the home can make them feel less heavy or overstuffed. It can also prevent cluttering! Having flowers makes you more aware of how many and what kind of things you place on your shelves. Put small, charming blooms in simple pots. Place them between books and decor. Be creative. Don't hesitate to get a little playful! Flowers are all about fun and flair, so it's okay to try and come up with fresh ideas. A good way to exercise your creativity is to plan your floral arrangements around seasons. They can help you get familiar with seasonal colors and care for seasonal blooms. It's also a nice way to be in the moment and stay connected with nature. Feel free to try out placing flowers in different spots. Try setting like tall vases for your floor or potted blooms on your windowsill. Top tip: a simple bouquet on your work or study desk can bring more boosts of inspiration.
Florist In Elm Grove, Wisconsin
Are you in the Elm Grove, Wisconsin area and are looking for a business that does flower delivery near me? Are you interested in having fresh flowers delivered? If the answer is yes, you have found a great resource to take care of all your florist needs. We are the best florist in Elm Grove, Wisconsin. No arrangement is too big or too small for us. We provide full-service floristry services.
Locker's Flowers has been serving Elm Grove since 1911. We are family-owned and Locally owned by master designer Kimberlee Grob in Wisconsin. We serve the areas:
Well, when we see their extravagant lifestyles, this might not ring so true. Parties, luxury jewelry, designer wardrobes, private jets and yachts. These are what we associate with the rich and famous! But despite being in the spotlight 24/7, celebs also relish their share of life's simple pleasures. These include picking out their most beloved blooms for a lovely bouquet. You 'd be surprised to know how many superstars love flowers as much as we do! Check out this rundown of celebrities and their favorite flowers! You can find out if you share the same faves as famous superstars. Even better, you can find inspiration to get some of these for your next bouquet! This famous singer rose to fame and fortune with playful, catchy pop hits. And she's actually a big fan of fresh florals! As a matter of fact, her dressing rooms on tours and concerts are often spruced up with flowers. Among her favorites are the showstopping white and purple hydrangeas. Known for their lush, thick look, these blooms inspire beauty and creativity. Just like this pop singer's distinct musical and personal styles! Classic, delicate beauty with strength of character. This defines both the timeless actress Audrey Hepburn and her best-loved flower, the Lily of the valley. Hepburn loved these modest white blooms. She even carried a bouquet of them at her wedding to Mel Ferrer. The bouquet was also featured in one of her most well-known films, Funny Face (1957 ). The lily of the valley blossoms in spring season with a subtle clean scent. It is also known for its unique bell shape, which is believed to bring peace and good spirits. With its soft yet striking elegance, it's easy to understand why Hepburn loved this flower. It reflects her own graceful persona. Being in the public eye while taking on taxing roles is a challenge for most stars. This may be why leading lady Scarlett Johnasson loves putting flowers all around her home. She claims that they make her feel calm and peaceful. In the hustle and bustle of the entertainment industry, having this is sure to be a gem. Lilies and roses are among her favorites. While they vary greatly in look and meaning, they do have one thing in common. They both have a delightful perfumed aroma which always engages the senses. Their scents also soothe the soul, which explains the actress's love for them.
Elm Grove, Wisconsin
Elm Grove is a village in Waukesha County, Wisconsin, United States. The population was 5,934 at the 2010 census. Elm Grove, Wisconsin coordinates at 43°2′52″N 88°5′12″W.
Florist Elm Grove, WI - Free Estimates - Call Today (414) 276-7673